We are honored and excited to have Alyssa back again for a blog post. She was our first blogger on HofZ. As a company, we are proud to have her apart of the herd due to her continued integrity and passion, not only for the sport, but for the people involved in it. She is an excellent addition to this online community of equestrians.
- HofZ Team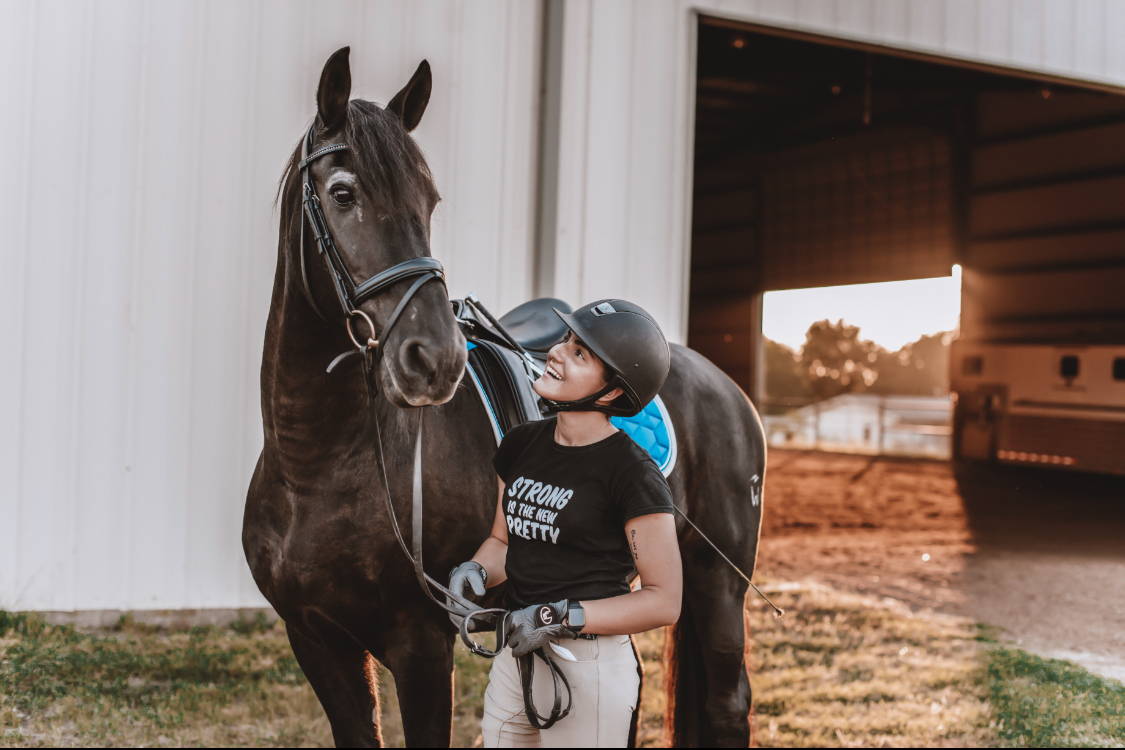 Cyberbullying is an epidemic. The hateful speech and actions carried out online seem to grow worse every day. Countless children and adolescents are affected by cyberbullying on a regular basis through social media, text messages, and other apps. But the problem is not limited to the young.
People of all ages and from every community feel the sting of cyberbullying. In recent years, the equestrian community has experienced its fair share of bullying online. While several organizations and individuals have started campaigns to raise awareness, there is plenty of work left to do to stop cyberbullying.
What is cyberbullying?
Cyberbullying is also known as Internet bullying. It involves people sending or sharing harmful, mean, or false content about someone else. It is most commonly talked about as an issue among teenagers and young adults, but it can affect anyone. Cyberbullying may also refer to someone sharing personal information with the intention of causing embarrassment.
The most frequent channels for cyberbullying are social media, text messaging, instant messaging, and email. Any of these messages sent over digital devices can be considered internet bullying. There are forms of cyberbullying that can be considered criminal, and they often include violent speech or threats.
One of the biggest issues with cyberbullying is the anonymity provided by the Internet. Aggressors can hide behind screennames, making it difficult for victims to confront them or report the activity. Comments can easily be left on social media platforms under false names and text messages can be sent from unlisted numbers, leaving the bully nameless and faceless.
Cyberbullying stats
If you are fortunate enough to have never been affected by cyberbullying, it may not seem like a big problem. But the truth is, bullying online is a serious issue that is hurting people and even ending lives. About 34% of people have been cyberbullied at some point, and that number increases to 50% for teenagers and adolescents.
What are the effects of cyberbullying?
The effects of bullying in general are significant, and that includes cyberbullying. Victims of bullying often experience emotional and psychological distress. The impact of bullying on someone's physical and mental health is serious and includes the following effects.
Depression and anxiety

Lower achievement levels, academically and in other activities

Alcohol and drug abuse

Increased fighting or tendency for violence

Feelings of isolation and loneliness

Abandoning activities that once brought enjoyment

Feeling overwhelmed

Increased vulnerability and feeling exposed

Feelings of anger, vengeance, and humiliation

Increased health issues and frequently getting ill

Suicidal thoughts or committing self-harm
As you can see, bullying can do great damage to a person's mind and body. These effects serve to highlight the danger of cyberbullying and the impact it has on victims. Unfortunately, cyberbullying does not seem to have a limit. It has infested the equestrian community lately, producing very similar results to the issues listed above.
Cyberbullying in the equestrian community
In recent years, top athletes have come forward to shed light on the bullying that occurs in sports communities. Gaby Douglas, an Olympic gold medalist in gymnastics, experienced terrible bullying online during her last Olympics. Youth sports have been identified as a hotspot of bullying, both in-person and online. Even professional athletes are not immune. Caroline Gleich, a professional skier, shared the harassment she received on Instagram.
Unfortunately, bullying is now coming to light in the equestrian community as well. While these behaviors may have always been present, the increased popularity of social media has heightened the problem. The combination of access and anonymity afforded to bullies online makes the issue difficult to address and even harder to stop.
#NOTINMYYARD
In 2016, the horse world was forced to take note of bullying among equestrians. Susan Oakes, an Irish equestrian with multiple world records, shared the harassment she faced on a regular basis. She was bullied by horse dealers and other employees at the stables. The cyberbullying got so bad, she lost her sense of self-esteem and contemplated suicide.
She was forced to alter her routines and training schedule to avoid bullying. She feared for both her safety and the safety of her horse. Bullies threatened both life and property damage, and she often felt unsafe even in her own home. Instead of feeling joy when she was riding, she felt dread.
Oakes began a campaign in Great Britain using the hashtag #notinmyyard. It has been endorsed by the Federation Equestrian Internationale (FEI), professional riders, dressage judges, and more. The goal of the campaign is to raise awareness of cyberbullying in the equestrian community and urge trainers to adopt a zero-tolerance policy for bullying.
#STOPBULLYINGINEQUESTRIANSPORTS
Hannah Brooks, a volunteer in equestrian sports in Australia, has also felt the impact of bullying. She decided to start an online support group on Facebook to raise awareness of the issue and eradicate bullying from equestrian sports. She wants those in equestrian sports to #enjoytheride instead of participating in bullying and harassment.
She shared on her Facebook page that 86% of equestrians experience bullying. Brooks started the Stop Bullying in Equestrian Sports hashtag as well as a pledge for riders. She encourages riders to refuse to tolerate bullying and end the toxic culture invading the sport.
Avoidance
Some riders choose to stop sharing information about their riding experiences altogether due to a fear of bullying. The variety of opinions in the horse world has morphed into hurtful comments and anonymous harassment. Most YouTube videos from riders or trainers receive at least one or two hateful comments at some point. As these comments occur more frequently, they may feel too discouraged to post again.
Para Dressage
It is extremely unfortunate that one of the communities most affected by bullying is the disabled community. Whether someone has a physical, mental, emotional, or other form of disability, they are at an increased risk of being bullied. One place this can be seen is bullying aimed at para dressage riders and athletes with physical disabilities.
Para dressage provides opportunities, both educational and competitive, for athletes with physical disabilities. The athletes in this community are at the top of their game and every bit as competitive and capable as non-disabled athletes. Their disabilities may make them look different or adopt a different riding style, but they compete at the same level as other riders.
If you guys remember a few months ago, I personally had a run in with cyberbullying as the head of social media for Horse Guard attacked me & several other riders in a group chat via Instagram where they made explicit comments about me personally & bashed on peoples horses, skill level & overall personalities. We were fortunate enough that a person from the chat group (who wasn't involved in the cyberbullying), made us aware of what was going on. After we all reached out to HG personally, they never implied or told us that they were going to act against this person & that's when I decided to go public with it – and man, did we make waves that day. After all was said & done the social media manager did get fired from her job & everything was brought out into the light. If you know me (& hopefully most people), I have a zero tolerance for bullying & try my hardest to combat it when I see it. While this still happens to me on occasion, the amount of love & support I get from everyone online is overwhelming & I'm thankful to have so many people that believe in me & my journey.
How can you stop cyberbullying?
Shelby Dennis, a trainer and vlogger, shared her personal story of cyberbullying. While she experienced plenty of aggressive comments and criticism on YouTube and Instagram, she saw the worst of the comments on Tumblr. She often considered deleting her account altogether, but she didn't want to lose all of the photos and memories she had shared over the years.
She encourages commenters to ask themselves three simple questions before posting on social media.
Did the equestrian ask for tips or advice specifically?

Is the horse or rider at risk of immediate injury or danger?

Can you phrase your comment in a manner that is kind and supportive?
These questions should guide all of our interactions online, regardless of topic or platform. If everyone adopted this practice before posting something on social media or sending a text message, the world would be a friendly place. Just modify the questions slightly to fit the topic at hand. If the answer is no, you should likely rethink your post.
There are also many resources available to report cyberbullying if you witness it. Several helplines have been established to report bullying among both adults and children. Most help centers, mental health professionals, and law enforcement recommend that you do not respond to or forward any messages that include cyberbullying. You should keep a record of the bullying and provide the evidence to web and cell phone providers. It is also wise to block the person who is doing the bullying.
Most of the time, cyberbullying violates the terms of service for social media platforms. By reporting the activity to the social media site, you can help to get the account closed or blocked. If cyberbullying involves threats of violence, sexually explicit messages, photos that violate privacy, stalking, or hate crimes it can be reported to your local law enforcement.
These options are available for those who are the victims of bullying online and those who see it occur. Ultimately, it is up to each and every individual to recognize bullying and put a stop to it. We should all commit to refusing to participate in cyberbullying, but we should also report it whenever we see it. Only by individuals taking responsibility for bullying online can we eradicate it from schools, social media, and sports.