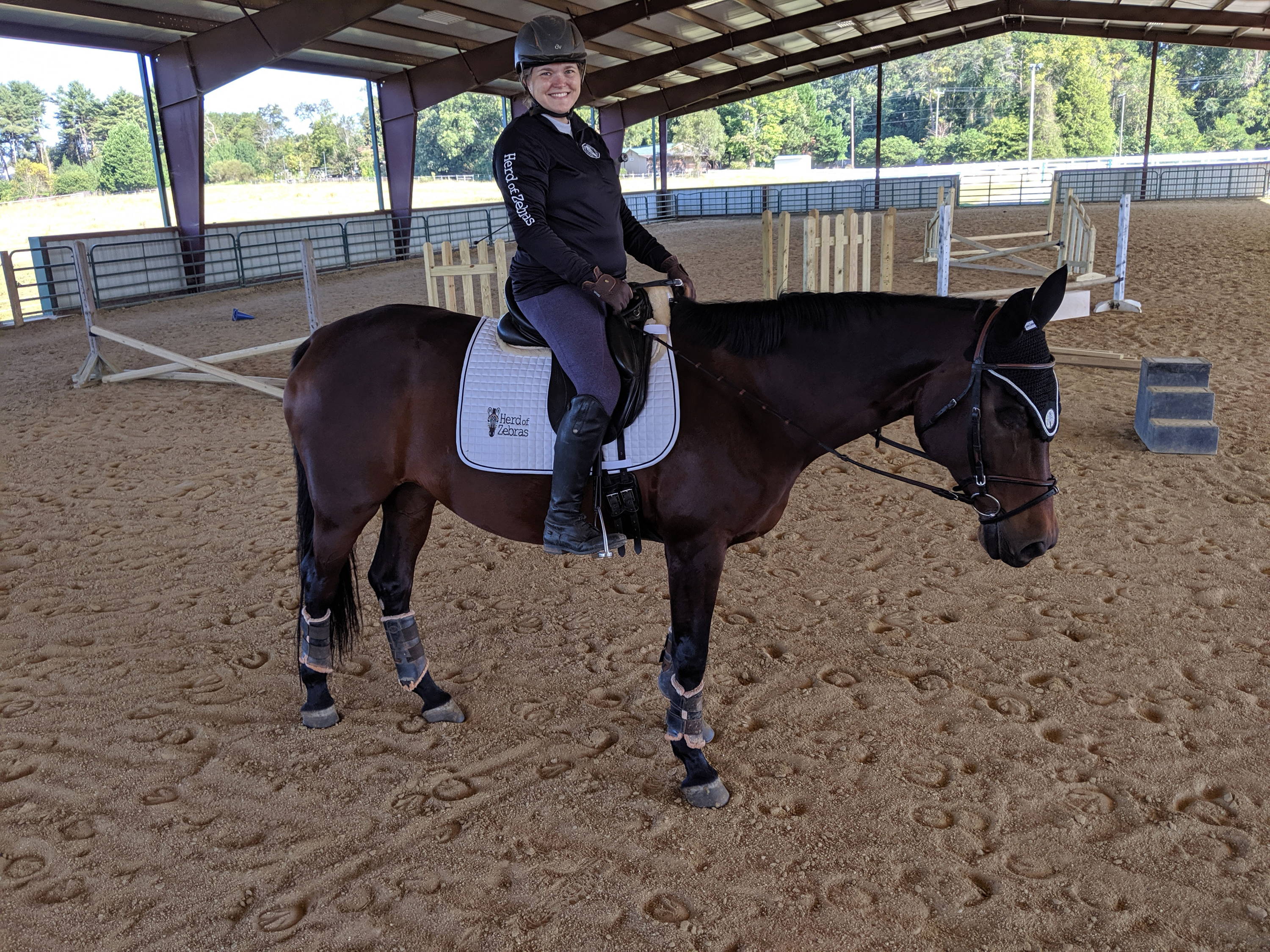 Aireanna "Rea" is a 12 yo Trakhener mare and she is completely blind- both eyes have been removed. We still ride and compete successfully and Herd of Zebras was kind enough to ask us to share our story! She is such a special horse and goes on blind Faith every day, every step of her life.
I am a mixed animal mobile vet and own my own business - Henry River Mobile Vet services. I am married have a small herd of animals and a newborn son on my mini farm at home. My early childhood was filled at a great boarding barn with lots of lesson ponies and a trainer that often told me to go grab a helmet and ride them all! In college I road in IDA and grew immensely as a rider during that time. My last heart horse was a QH gelding named Star and was purchased by my parents when I was a freshman in high school. He saw me go through undergrad, vet school, and my veterinary internship. He was my therapy, my shoulder to cry on, and my rock during hard times. When it became evident that he needed to be retired I went on a hunt for my new horse. My neighbor breeds Trakehners and I ended up trying Rea and falling in love immediately. Not many people get lucky enough to have two heart horses!
I owned Rea for 6 months and before riding in a weekend warrior dressage camp where her left eye developed an ulcer. Sucky but no big deal- got some ointment and anti-inflammatories in the eye and within 24 hours it looked much better. Then two days later despite treatment it started to look bad again. She went straight to NCSU Vet School with a diagnosis of a fungal ulcer and after two surgeries and almost 3 weeks she was sent home to recover. We had so many people around the clock taking turns to medicate her every three hours. Then 6 weeks later when I was on vacation in Germany, I got a phone call that the eye needed to be removed - it had ruptured despite our best efforts. I was devastated and thought my new life with this mare was over. I was so wrong- she never skipped a step and we still did some CTs and got our scores through second level. All was right again in the world…until it wasn't.
My greatest nightmare happened this January when the barn manager sent me a text that my horse had a fat eye (her only eye). It was treated aggressively immediately with antifungals and antibiotics but it was clear we were losing the battle even from the beginning. After a standing surgery to place a conjunctival graft the graft failed and eye ruptured. I was convinced her best option was euthanasia if treatment failed; I had seen so many client horses that were petrified and humanely euthanized because they couldn't handle being blind. I had a great person convince me to give her a chance. On the day of surgery she marched into the stocks and right after surgery she started eating hay immediately and was happy as a clam.
I rode the first time 5 days later with Mom essentially giving me a pony ride. Rea didn't understand why I didn't just let her be her she knew what to do! From there it took probably 4 weeks and we were schooling what we were before her eye loss (minus jumping of course) and took out first off property lesson.
Those first few weeks I adapted as a rider. I realized how much I ride in auto-pilot and don't steer or let the arena back a horse off if they aren't listening to my aids. She was so forgiving when I accidentally ran her into things during that learning time. Even today she is ridden by other riders she is forgiving and if they make a mistake and run her into something she stands and kind of gives the expression of "ok- you are going to have to steer better than that!"
People often ask me how she adapts away from home. She gets on and off step of foreign trailers, goes into new stalls and new footing away from home and never missed a beat. She was always a very confident pushy mare and I think those aspects of her personality have given her the confidence to be the wonder mare that she is today! The biggest challenge is when horses around her spook. She will react when others do as a herd instinct and response. I correct her then and remind her that if she is to spook, she must learn to "spook in place" because a flighty blind horse is nothing but danger to her handler.
I thought the 2018 show season was over before it started because her second eye was removed early March. The year before she was blind I had ridden successfully a musical freestyle at First level. That June my mom and I went to a recognized show on a whim and I decided to re-ride the MFS. We ended up winning both of our classes and qualifying for NCDCTA champs at the end of the season. We then went to NCDCTA champs with hope but no real expectations. I was floored when we won the class which is a pro/am combined class! My wish since I was a young kid riding was to have a neck ribbon. That wish finally came true on my one and only No eyed wonder mare!
We wouldn't be here doing what we are doing without many special people! Dr Justin Jornigan a dear friend and colleague did both of her enucleations. The team at NCSU ophthalmology who treated her first eye. Animal Eye Clinic - Dr Harrington and Dr Gerding took a Sunday to do her emergency surgery to try and save her last eye. My mom Sabine Schweizer is my rock and my inspiration. She was beside me during all the late-night treating, hugged me while I sobbed when I thought it was all over and now coaches me at home in between lessons/clinics and is the ultimate show Mom!